Idén először két részt is szállítottak Simpson-ék készítői halloweenra.

Október 18-án a Halloween of Horror című (578.) részt vetítették, október 25-én pedig Treehouse of Horror (579.) epizód volt, méghozzá a XXVI., hiszen már a 27. évadnál járunk (nagyon durva ez a szám...), és a 2. évad óta vannak ilyen epizódok.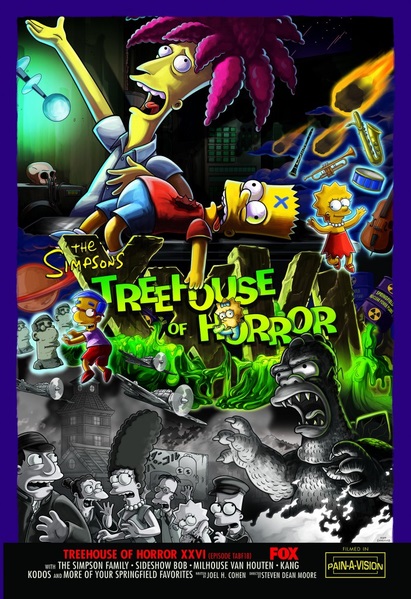 Az október 18-i rész egyébként nem a 3 rövid sztoris (főképp horror filmeket parodizáló) vonalat képviselte, hanem egy halloween idején játszódó, hagyományos, teljes Simpsons epizód volt, amire még nem volt eddig példa.

Spoilerek következnek!

A sztori röviden: Simpson-ék a halloweenra készülnek, díszítik a házat, majd elmennek egy halloweenes ijesztgetős parkba, ahol Lisa sokkot kap. Ettől kezdve retteg az egész halloweentól. Homer-ék kénytelenek leszedni az összes díszítést, és eltenni az összes kelléket. De Marge elviszi Bart-ot és Maggie-t halloweenezni, hogy legalább ők ne maradjanak ki. Közben Homer otthon marad Lisával, s rájuk törnek az indiai Apu boltjából azok a rakodó munkások, akiket Homer véletlenül kirúgatott aznap. Így kénytelenek a ház tetejére menekülni, s segítséget hívni. A vége gondolom egyértelmű, megmenekülnek.

Jó, hogy végre volt egy halloween idején játszódó epizód, de sajnos nem volt túl erős. Nem volt benne túl sok poén és ötlet...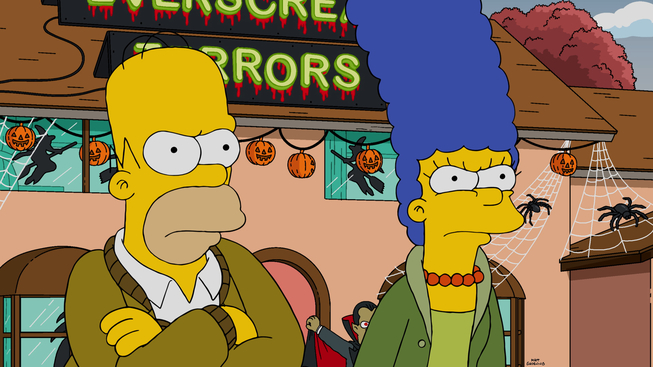 A Treehouse of Horror XXVI. már jobban sikerült, de ez sem fog bekerülni a legjobb Treehouse of Horror epizódok közé. A szokásos módon 3 rövid sztori volt. Az elsőt kicsit erőltetettnek éreztem, meg szerintem egy kicsit már el is szálltak a durvasággal, átestek a ló túloldalára. Persze mindig szoktak lenni vérengzések ezekben a halloweeni részekben, amikkel soha nem is volt baj, sőt, egész jól megtalálták az arányokat, de ilyen mennyiségű durvulás, mint ami most volt, szerintem annyira már nem illik bele a Simpson család világába.
Az első történet ugyanis arról szólt, hogy Balfék Bob megöli Bartot, majd feltámasztja, újra megöli, s ezt csinálja újra meg újra, egyre brutálisabb módon. (Jó, azért, amikor Bart megkérdezi, hogy mennyibe kerül üzemeltetni ezt a feltámasztó gépet, s Bob megmutatja a számlát, s Bart ettől purcan ki, azért az vicces volt.)
A második történetben egy Homerzilla kezdett el pusztítani, mert Nagypapa meghalt, s nem dobált be neki fánkot az óceánba. Hozták a tipikus régi fekete-fehér japán Godzilla filmek hangulatát, s egyszer csak kiderült, hogy egy olcsó költségvetésű, de "nagyszabású" amerikai filmet forgatnak, amitől azt várják, hogy kasszákat robbantson, s lehessen belőle csinálni egy csomó folytatást. A moziban a készítők csak egy embert találnak, a képregényes srácot, de ő is benyögi, hogy a Star Wars 7-re vette meg a jegyét, és azért ült be már most, hetekkel korábban, hogy biztosan meglegyen a jó helye, ezzel kicsit reagálva a múlt heti jegyelővételes tömeghisztériára.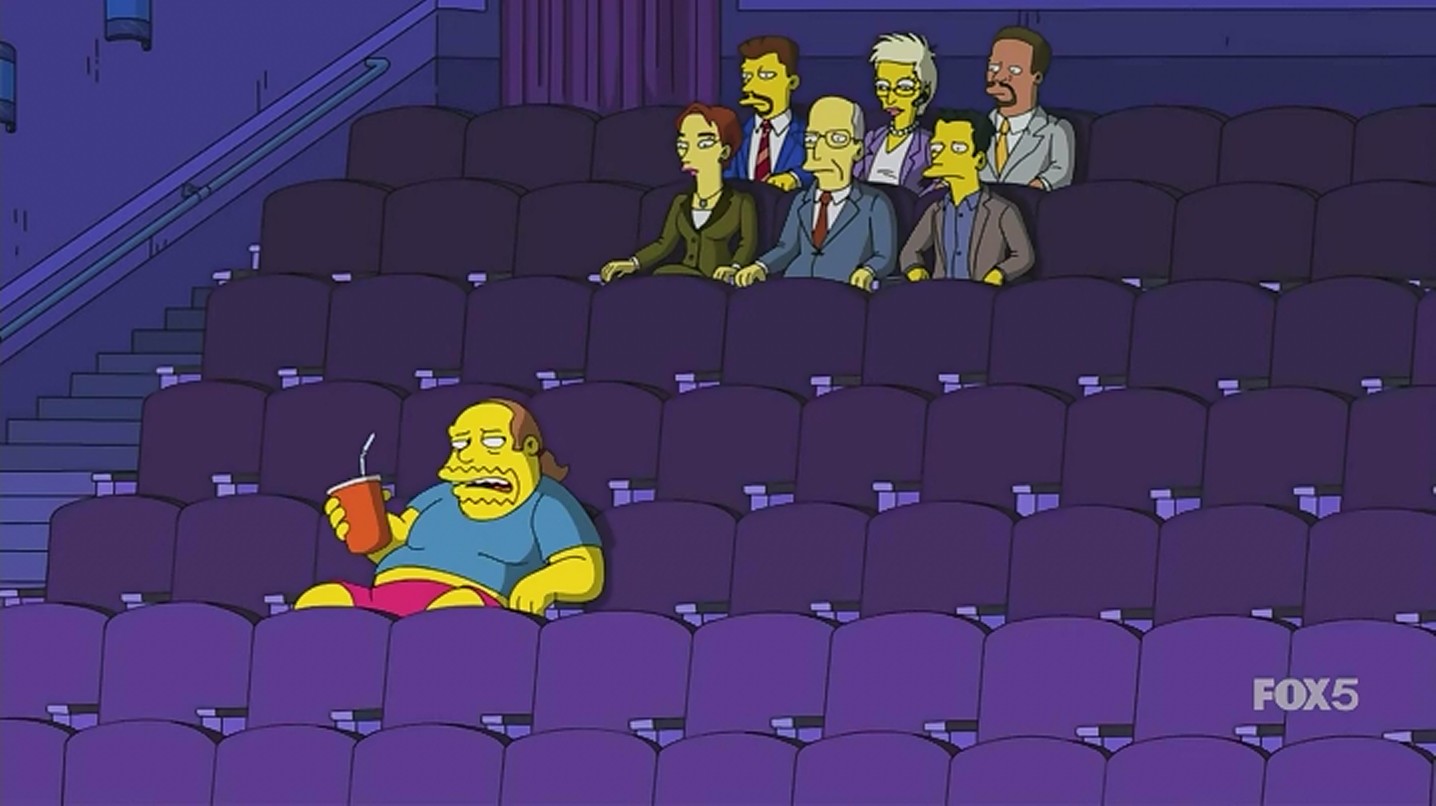 A harmadik sztori pedig Az erő krónikáját sűrítette bele pár percbe (természetesen talált kamerás stílusban), de nagyon sok pluszt nem adott, tényleg csak olyan volt, mintha röviden összefoglalták volna a filmet.

Voltak tehát már jobb halloweenes epizódok, reméljük még lesznek is. Talán majd jövőre...